Pimped Slot

Preview
Ever dreamed of living the bling lifestyle of a rap 'player' like Snoop Dog or a badass gangsta like 50 Cent? If you have then Pimped, a super-cool, hip-hop-themed video slot from Play'n GO could well be the game for you. As well as stacked wilds and free spins, you can expect big beats, console-style visuals and scantily-clad 'hoes' a-plenty.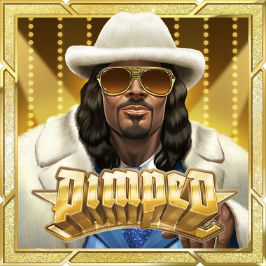 Pimped Highlights
Minimum bet: 0.01
Maximum bet: 100
Paylines: 10
Reels: 5
Min bet line: 0.01
Max bet line: 2
Max coins per line: 5
SlotSource Security Assurance

About Pimped Slot Game
The first thing that strikes you about this five-reel, 10-payline offering is the gorgeous graphics. It's evident the bluds at Play'n GO have looked to the Grand Theft Auto series of console games for inspiration here as the looks of the game really are very similar, i.e. very bold and stylish. The decadent penthouse suite setting evokes the bling lifestyle perfectly and the key hustler characters (who are dead ringers for Messrs Dogg and Cent) definitely look the part.
The soundtrack doesn't disappoint either, with plenty of smooth beats on hand for you to shake what your mama gave you to make the rent to. Along with the deep bass notes and sweet R&B tunes you can hear a crowd (your posse, perhaps) cheering and chattering in the background. This is well conceived too as the hubbub goes quiet between spins then springs to life when you start playing again. All of this, along with an impressive RTP of 96.5%, is available from 10p to £20 a spin.
Pimped Slot Features, Specials and Symbols
Unsurprisingly, the main symbols in the Pimped online slot reflect the trappings of wealth which materialistic rappers are so obsessed by. So it's dollar signs, knuckledusters, stylish guys, high-end watches, sexy girls, golden rings and rolls of cash filling the reels here. The knuckleduster is the game's stacked wild while the golden dollar sign is the scatter. The ubiquitous high card symbols are on hand too, although they're pimped out to the max.
While the Pimped slot machine isn't packed with bells and whistles, it does have a couple of notable bonus features:
Win Spins - Land three or more scatter symbols (starting from either the first or fifth reel) and you'll be rewarded with five initial win spins. The thing to bear in mind here is that every win spin is guaranteed to win along at least one line during this round. You should also be aware that two additional spins get added to the total (with a possible max of 20 per round) whenever a cash scatter symbol pops up during the round.
Gamble Round - You'll be familiar with this feature if you've played some other Play'n GO titles. It basically involves you clicking 'Gamble' after a win and then trying to guess the correct colour of a face down card. Guess correctly and you'll double that win. Go one better and guess the correct suit and you'll quadruple it. Five consecutive wins or 2,500 coins (whichever comes first) is the maximum reward available.
Though it won't be to everyone's taste, the Pimped slot game is certainly a breath of fresh air. The striking visuals and cool soundtrack are very enticing, as is the smooth, intuitive gameplay. The enjoyable bonuses and handsome RTP percentage are likely to win over most doubters too. All in all, a very impressive stab at a niche which has up until now been ignored by the majority of slot game developers. Brrapp, brrapp (etc, etc)...
If you like Pimped - You'll like these slots too!
Discover more of what you want
Everyone has a type. Find your perfect slot game match